Str Paragarilor, nr 2, Sector 2
București, 021108 România
+40 734704132
armatasalvariibucuresti
IBAN: RO32BRDE410SV90962864100
MO

TU

WE

TH

FR

SA

SU
27

28

29

30

31

1
Events for februarie
1st
No Events
Events for februarie
2nd
10:30
Bucharest
3

4

5

6

7

8
Events for februarie
3rd
No Events
Events for februarie
4th
No Events
Events for februarie
5th
No Events
Events for februarie
6th
No Events
Events for februarie
7th
No Events
Events for februarie
8th
No Events
Events for februarie
9th
10:30
Bucharest
10

11

12

13

14

15
Events for februarie
10th
No Events
Events for februarie
11th
No Events
Events for februarie
12th
No Events
Events for februarie
13th
No Events
Events for februarie
14th
No Events
Events for februarie
15th
No Events
Events for februarie
16th
10:30
Bucharest
17

18

19

20

21

22
Events for februarie
17th
No Events
Events for februarie
18th
No Events
Events for februarie
19th
No Events
Events for februarie
20th
No Events
Events for februarie
21st
No Events
Events for februarie
22nd
No Events
Events for februarie
23rd
10:30
Bucharest
24

25

26

27

28

29

1
Events for februarie
24th
No Events
Events for februarie
25th
No Events
Events for februarie
26th
No Events
Events for februarie
27th
No Events
Events for februarie
28th
No Events
Events for februarie
29th
No Events
Educam Viitorul
Manager Proiect
Andrei Radu
"Educating the Future" is an educational project facilitated through The Salvation Army Romania and it is aimed at students in the 8th and 12th grades in order to prepare them for the National Evaluation Examination, respectively, for the Baccalaureate examination.
The project has started on the 16th October 2018 and it is hosted by The Salvation Army's Headquarters in sector 2 (street Pargarilor, no.2), Bucharest. The volunteers and the students meet up every Tuesday and Thursday between 2 pm and 6 pm. The tutoring sessions cover the subjects of Mathematics, Romanian Language and Literature and Romanian History (all mandatory subjects for the Baccalaureate examination).
All those who wish to be involved in this project can:
Distribute the Facebook page in order to increase visibility : https://www.facebook.com/Educam-Viitorul
Recommend this project to others who are interested in volunteering: https://goo.gl/forms/eQLiMBq6n4SEsDoj2
Recommend this project to potential students (beneficiaries)
The teaching volunteers have the following benefits:
The chance to further improve their teaching abilities and methods, as well as their creative, management and communication skills;
Volunteering experience in a well established international organization;
Official volunteering certificate;
 The chance to develop their professional teaching network;
Experience in an international organization with social impact.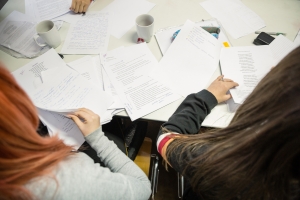 Fabrica de bucurii
"Fabrica de bucurii" este un proiect handmade de susținere financiară a programelor pentru copii și adolescenți, aflate in cadrul Armatei Salvării București.
Printre creatiile noastre se enumera pentru moment: cercei, bratari, coliere, inele. In viitor intenționăm sa ne extindem si inspre covoare lucrate manual, accesorii pentru casa, precum cosulete, tablouri, cutii, etc. Vrem pe aceasta cale sa multumim tuturor care cumpara creatiile noastre, implicandu-se astfel direct in educatia si cresterea unor copii defavorizati oferindu-le în acest mod accesul la o viata mai buna, educatie, mancare si imbracaminte. Dumnezeu să vă binecuvanteze!
Studiu Biblic & Rugăciune